On my second year of my batchelor, I worked on a project for Rigshospitalet (the main hospital of Copenhagen).
We worked in groups to design games that could provide safe and social experiences for the patients and their guests. The hospital needed a way of improving the visiting experiences, so it would become more social and positive, since many people have negative emotions associated with the rooms and spaces in the hospital.
My group designed the game "Hyggesokker". Hyggesokker was a collection of four couch multiplayer games, two of which got made.
Our design aimed to bring "hygge" into the hospital's visiting areas. The games are made to be playable for all ages and levels of gaming experience – Much like most family friendly board games, which we kept in mind during the design process. The game should be played using player's personal devices (like phones), so no one would have to be forced to use conventional gaming controllers, if they weren't comfortable to do so.
My responsibilities:
Game design
Setup in Unity
Programming (C#)
Sound effects
Content design (questions for prompts, words for Kakao Kop)
Animation
Running playtests
The games
The two almost-finished games in Hyggesokker are called "Kakao Kop" and "Falsk Faktum".

Kakao Kop is co-op game based on the classic hang-man game, where players have to guess a word within a category. As hang-man obviously have associations to death, the theme of the game was changed to keep a nice and calm mood. The narrative is, that players have to keep a cup of nice hot cocoa full, without spilling anything. Each wrong guess for a letter will spill the cocoa, so the goal is to have as much cocoa left at the end of the round.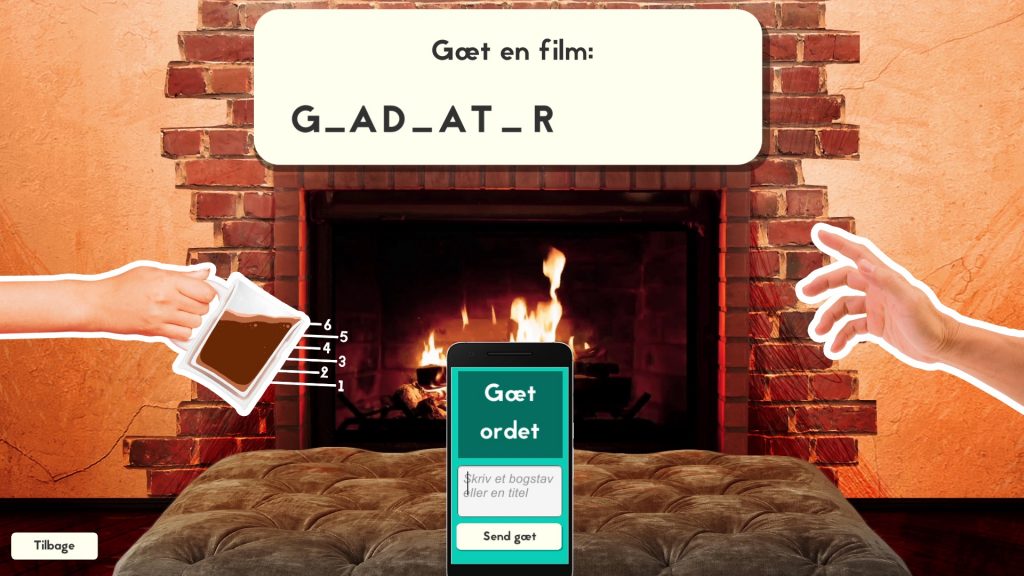 Falsk Faktum is a quiz game about tricking other players. The game is divided into turns, each with a prompt/question within a selected category. The goal is for each player to get the highest amount of points. Before guessing, every player gets to come up with their own possible answer to the prompt. Then, everyone has to try to find the correct answer. You receive point if either you guess for the correct answer, or if someone guesses for your "fake" answer.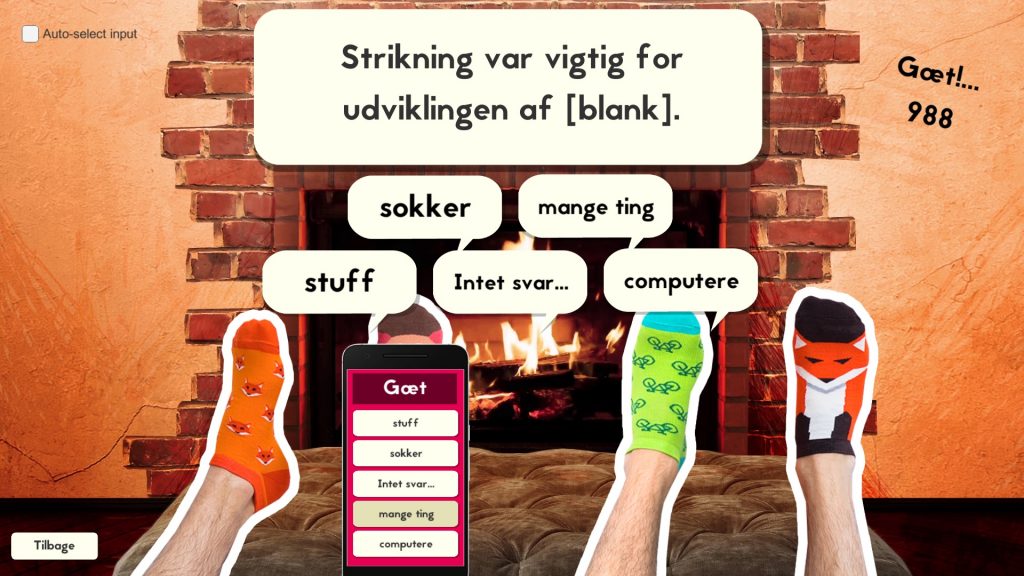 For more information and a downloadable prototype (for PC or Android), visit https://erikandersen.itch.io/hyggesokker. Please note that we didn't have time to finish the intended controller system. Kakao Kop is playable, but Falsk Faktum is not playable as intended, however it works best on Android if you want to try.